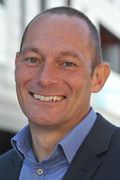 By Mike King
No one can have failed to notice that wearable technology is being hyped as the new, new thing and with this week's announcement of its Galaxy Gear smart watch, Samsung has added further fuel to the fire.
With the hype comes the customary industry clamour to jump on the wearable technology bandwagon but so far there's been little beyond talk of Google Glass and interactive watches; innovative in their own right, but hardly the dawning of a new era.
Back in the real world, it is early days for mainstream wearable technology.   In spite of the huge levels of media interest and feeling that Google Glass has been around for ages (it was first mooted more than two years ago), you still can't buy it.  Admittedly, Google Glass is currently being tested by a select number of early adopters and developers (people dubbed Glass Explorers) who each paid $1500 to get their hands on test versions of the product but the general launch isn't expected to be until next year.
In true hyped technology fashion, head worn displays are nothing new; they've been used in a wide range of specialist areas from training to the military for a couple of decades.  A quick Google search for 'optical head mounted displays' will show just how many are out there. 
So what else falls into the wearable technology category to justify all this excitement?   Not surprisingly, there's a lot of health and fitness related stuff such as the smart tooth that can monitor what you are eating and then make recommendations on ways to improve your health; the Airwaves pollution mask that shares information on pollution levels and advises people on which areas to avoid; and the Sensoria Sock that is designed to help reduce foot injuries by monitoring running style.  But, by far the most interesting has to be the Intimacy 2.0 smart dress, a dress that apparently becomes transparent when the wearer is aroused.  This is a product that's been around for a couple of years (launched in 2011) and was clearly ahead of its time. 
What happened to the Intimacy 1.0 I'm not sure, presumably it contained some bugs that have been ironed out in the latest version but even with version 2.0 I'm not sure I'd recommend anyone trusting their dignity to wearable technology just yet.  It seems to me that this is a high risk product, fraught with potential calamities but maybe that is part of the appeal to some.  It certainly adds a new dimension to the need for adequate virus protection.