"What would you think if I sang out of tune, would you stand up and walk out on me?". Yes, probably! Especially if you're my colleague and you start singing (off-key) while I'm trying to focus on my next byline article on network infrastructure! But if you keep it to yourself, I might be OK with you working with music.
For as long as I can remember, music has always been a big part of my life. My parents always had the radio on in most rooms, and with my grand-mother being a former ballet dancer, she would practice to music every day in our dance room at home, which made it almost impossible to grow up with "the sound of silence". This has always been fine by me, though; I listen to music a lot in my free time, on my daily commute, and even when I want to concentrate on something at work – but it seems I am not alone in this.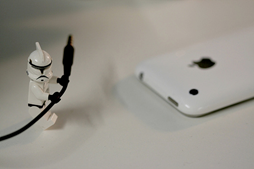 In fact, I am just one person among many others that uses music to focus.  Indeed, a recent infographic, conducted by Toggl, shows how music affects people in the workplace and how it does (or doesn't) boost their productivity and happiness. This infographic echoes a survey conducted by Spotify last year, which revealed that 61 percent of respondents thought music makes them more productive and happy.
What's most interesting is that we all don't listen to the same kinds of music and we all concentrate in different ways. Many websites have developed recommended playlists for you to listen to depending on your activity and music taste. For instance, MyLittleParis' newsletter, which provides fashion and food tips to Parisian ladies, has a "radio" page suggesting playlists for every occasion, including a few dedicated to your work life: The morning booster, The concentration playlist and the playlist to take a nap at work, to name a few.
If we take a closer look at this infographic there's music for all kinds of tasks and personalities. And sorry to break it to you, but listening to classical music doesn't make us any smarter! Marilyn Manson, for example, is not ideal when you need to focus on a press release or a byline article. But if you're in need of some motivation to pitch for a new project, it seems you can ask Freddy Mercury or Survivor for some support.
These surveys essentially reveal what music is best for you to successfully achieve your tasks, whether it's in silence, classical music or underground music. So, please enjoy the music and, while you're at it, find out where Charlie is!