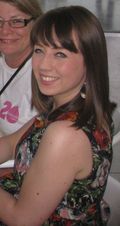 By Kasia Murphy
This week, Green Party MP Caroline Lucas appeared in Parliament wearing a bold white t-shirt displaying the slogan "No More Page Three" in large capital lettering ahead of a Commons debate on media sexism. She was quickly told to observe the Commons' dress code (put her jacket on) and culture minister Ed Vaizey responded by stating that there were no plans to regulate the content of the press, reminding us that "we as a government are committed to maintaining a media that commands respect from the public through high standards..." In a matter of moments the story traversed my Twitter feed.
It's only a few short weeks since Facebook caved to, eh, social media pressure, when women's rights campaigners launched an online campaign calling on it to recognise content that trivialises or glorifies violence against girls and women as hate speech. Up until May 29th, Facebook policy considered messages that broadcasted anti-Semitic, racist or homophobic content as hate speech and removed them from the network, but this didn't extend to sexist hate speech. In just three days, an online storm of 22,000 tweets and almost 2,000 e-mails was whipped up in support of the campaign. More than 100 advocacy groups joined the protest and demanded Facebook train moderators to remove it.
While the action of this online campaign is a testament to the power of social media to influence, what I find most interesting is that campaigners targeted their efforts by putting sustained pressure on Facebook's most valuable asset – its advertisers. Campaigners alerted advertisers by posting screengrabs of misogynistic (and often violently graphic) images juxtaposed to their products. Uh-oh. Within days of the campaign beginning, a total of 15 companies moved to protect their brand reputation and withdrew advertising pending resolution of the situation. Brands included Japanese carmaker Nissan, the UK's largest building society Nationwide and Dove from Unilever. Of course, it's hard to name one other advertising medium where this sort of positioning would go without reproach.
Targeted advertising is upheld as new frontier of modern day advertising and it's really of no surprise. It offers advertisers the technological means to gather unprecedented information on potential customers and in turn the means to intelligently place ads for a product that is reflective of that user's interests. Bingo. It's worthwhile to note that Facebook recorded a whopping $3.2 billion in advertising revenue in 2011, 85 percent of its total revenue.
While an initial defence of letting the content go uncensored was mounted, branding the campaign an encroachment on freedom of speech, the price was ultimately too high. A mere seven days since the campaign began, the social network admitted its procedures for dealing with such harmful content were inadequate and promised to 'do better'.