Ah, the humble Christmas jumper. Until around twelve months ago, these were the much scorned Christmas gift – the item that everyone dreaded as much as novelty ties or socks.  Say Christmas jumper, and frankly the first thing that entered my mind was copious levels of embarrassment.  Today, however, the Christmas jumper signifies that cool, must-have Autumn/Winter 2012 accessory.  The Christmas jumper is IN, and if you don't believe me, believe the sales figures.  "News" articles have documented high sales figures, with Asda reporting sales of 10,000 Christmas jumpers in the past two weeks alone.  Yes my friend, the Christmas jumper has made the transition from embarrassing outfit/guilty pleasure, to officially cool.
Now, I'm not just writing a blog about my love of all Christmas jumpers – much as I'd love to wax lyrical about the nylon fabric that most are made of.  No, this week's blog is dedicated to the sterling efforts of the team at Johnson King who today have donned their most impressive Christmas jumper attire – some to meetings (awesome dedication people) – all in support of the Save The Children Christmas Jumper Campaign.  With such an impressive array of jumpers, we really are spoilt for choice.  On display today we have Santa, Rudolph, snowmen, penguins, a lot of reindeer, an elf, tinsel, fairy lights (we're standing by with the extinguisher) and a jumper conveying all the best bits of Christmas (turkey, presents, pudding and sleep).  So with no way of picking the best jumper, I wanted to use this opportunity to showcase all our efforts.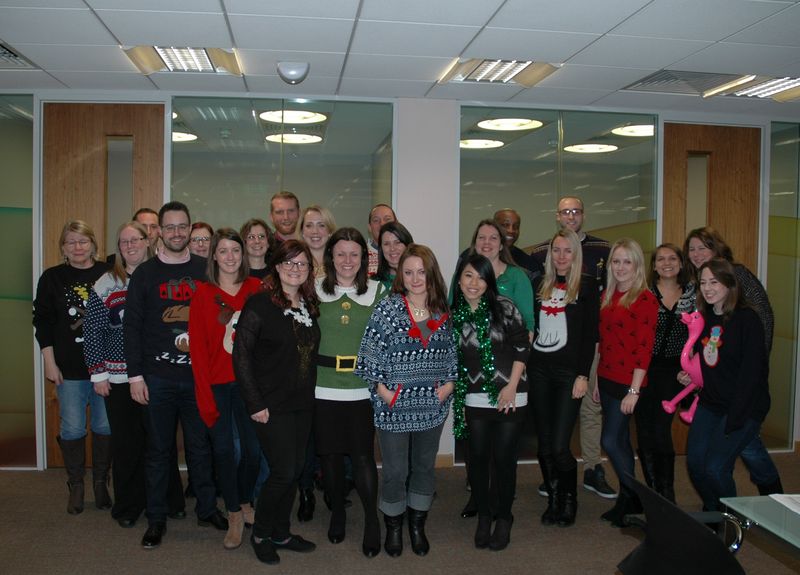 Check us out! Bravo JK-ers for doing this for such an amazing cause!