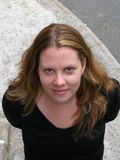 By Flora Haslam
As we head towards Christmas, this will be our last post for 2011.  So it seems rude not to jump on the bandwagon and look back at the last 12 months...
For me – and in no particular order – these are the top five stories that stick in my mind:
1. Tablets.  I'm starting to think I'm the only person without an iPad – too late to add to my Christmas list? 
2. Anonymous and LulzSec – I'm sure there were a couple of months earlier in the year when they were in the headlines practically every day.  
3. The power of social media in action – from Egypt to the London riots. 
4. Can tech turn the economic tide?  Zynga, Groupon and LinkedIn all made public entrances in an otherwise shocking economic climate.  
5. Steve Jobs' untimely death in October – the biggest tech story of 2011, as covered by Bex at the time. 
And finally, I'll have to give a little mention to RIM – after a week in October travelling with no working BlackBerry, this has to be the company that has least impressed me in 2011 – I suspect they'll be glad when this year is over. 
So what have I missed?  Let me know if the Autonomy sale, launch of Google +, News International hacking or something else would have made your top five.