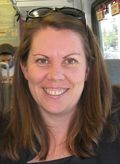 By Flora Haslam
I've just moved house and will try my hardest not to turn this into a rant about estate agents – for every journalist that's had a bad experience with a PR, I'm sure I could find a dozen people who were frustrated by unresponsive agents.
Agents aside, I was surprised how much things have changed since I last went through the process a few years ago.  It's clear from the investment in televisions ads that online is king when looking for property – the ease of search and convenience of seeing properties from multiple agents via one of the many portals now available is irresistible.
But I was pleasantly surprised to discover that solicitors have finally embraced the benefits of online communication and acknowledged that letters and faxes are just too cumbersome for today's home movers.  The ability to upload rather than post documents was a breath of fresh air this time round.  Updates by SMS, while managing and tracking the conveyancing process online, was a significant improvement.
With the cost of moving house rising so dramatically, consumers will inevitably demand that the process is made easier.  There's an app for everything else, so it was no surprise to see the launch of the first Facebook property app this month and it surely can't be long before technologies like QR codes and augmented reality become commonplace as the business of buying and selling property evolves.
Found any bricks and mortar via the new Property Place Facebook app yet?  Let Flora know your take on Twitter: @FloraHaslam.