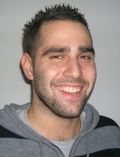 By Ryan Whelan
Thursday will see the launch of the new Google/HTC device cleverly named the G1, hailed as the 'iPhone challenger'.  Now, is it just me or is everyone getting a little tired of this 'iPhone challenger' label that seems to have been heaped upon EVERY smart phone launched since Apple blessed us with the iPhone?
Is Google's G1 incapable of being a phone in its own right?  Does it always need to be compared to the iPhone?  Does EVERY smartphone need to be compared to the iPhone?  The answer to all of these questions is a big fat NO!  Let me explain why...
The iPhone is unique and it is pretty much as simple as that.  The G1 does have many similar features and for its own reasons is a great device – however, I think the question of whether it is an iPhone challenger can be put to bed simply by looking at the cons of this device. 
The G1 does not allow users to synchronise music directly with a PC – something that iPhone users demand.  The G1 does not look as elegant as the iPhone and its interface is a little more complicated.  Complicated is simply not a word associated with the iPhone.  HTC's device also lacks support for corporate emails and is short of a standard headphone jack.  Not to mention the fact that the device is not supported by a mighty application like iTunes.
Everything that the G1 lacks can be found in the iPhone – hardly competition, is it?
It seems that everyone is trying to 'do an Apple' and launch a sophisticated touch screen device: LG, Samsung, Sony Ericsson, Nokia, Google and most recently RIM with a touch screen Blackberry.  OK, so touch screen devices did exist before the iPhone, but none of them offered the same seamless, uncomplicated and stylish end user experience. 
Yes, the iPhone has well-publicised drawbacks – only a 2 megapixel camera, no video capture and no MMS... but no other device can compare to the complete package offered by Apple.  It is like saying Amy Winehouse and Joss Stone are the same simply because they are both white females with soulful voices – as you can see, that couldn't be further from the truth.
All of these devices will undoubtedly sell and be loved by their users for various reasons – some may even sell more than Apple's offering.  But please, do us all a favour: lay off the CONSTANT comparisons and allow the G1 to be just that and not the 'G1 iPhone rival'.