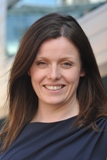 By Claire Ayles
Last Sunday, I took to the streets of my home town to run the London Marathon, raising money for the brilliant children's charity Whizz-Kidz.
It was simply awesome. Running alongside 38,000 people – all with very different, yet amazing reasons for taking part and some wearing the most astonishing of costumes – was an incredibly uplifting experience. The noise of the crowd – which was several people deep for nearly the entire 26.2 mile course – was so loud, it's still ringing in my ears.
In short, I loved it.
However, it was not all plain sailing. Apart from the inevitable pain in my feet and joints, my phone's usually reliable GPS decided to pack up.  I've blogged before about my addiction to fitness apps, so just try to imagine how I felt as I shuffled nervously towards the start line, only to find out that my app couldn't work out where I was. Frustratingly, it'd been working fine just five minutes earlier.
Metres short of the start, realisation hit that the statistics relating to the longest and most challenging sporting endeavour of my life were not going to be recorded (which, to app-addicts like me, means it might as well never have happened). Even worse, I'd have no voice in my ear telling me my pace.  The dangers of this are considerable – start off too fast and you're bound to be punished later down the road.
The momentum of the crowd meant there was no way I could stop and sort it out, so I just had to go with the flow – relying on mental arithmetic at each mile marker to work out how fast (ok, slow) I was going.  It was unexpectedly liberating to be tech-free, and the sums were even taxing enough to give me a few moments distraction every mile.
I should have known better than to rely on mobile technology, especially at a mass event where there are thousands of people trying to connect to the same thing at the same time, and there were very many wiser folk than me in attendance. 
The fashion 'must have' last Sunday wasn't a fitness band or a smartwatch, it was a paper wristband like this.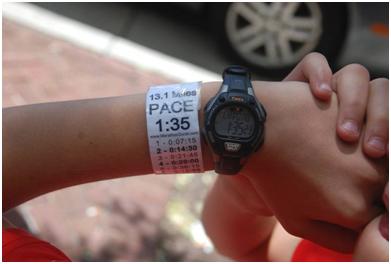 You can't beat a piece of paper.