Normally, the only time you hear a footballer speak is on TV, immediately after they've finished playing.  They stand in front of a board covered in sponsors' logos and face two minutes of pointless questions, desperately trying to goad them into saying something controversial.  The answers are always the same, but in this setting you can forgive the bland, inane clichés – it's hard enough for most people to express themselves eloquently after a 15 minute jog, never mind an hour and a half of professional football.
And even in these post-match interviews, the players are speaking in a setting they've been carefully prepared for.  All footballers are given years of media training before they're unleashed in front of the cameras.  Unsurprisingly they're told to handle the post-match interview situation by playing down individual achievements, talking up the importance of the team effort and, ultimately, revealing nothing that might be of any interest to rival teams or hostile journalists (or, in truth, any sentient human at all).
But the one part of the media football clubs can't control is Twitter.  Clubs are often left exasperated by their players' 140-character outbursts, jokes, arguments and general nonsense.  With every other part of the game so carefully shielded from the press and, even more so, the fans, Twitter is a force for truth, a noble beacon of light.
Crystal Palace midfielder Jason Puncheon was fined £15,000 for accusing a former manager, Neil Warnock, of corruption.  Puncheon claimed that Warnock was profiting from his own team selections by manipulating players' contracts: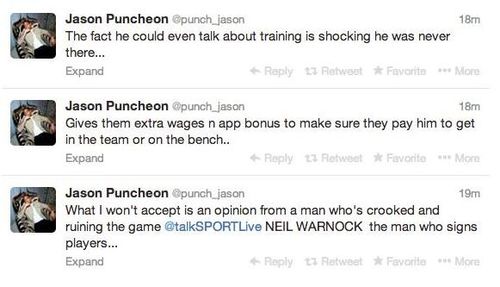 It's impossible to ignore Joey Barton.  Barton, never far from controversy, became known for posting Nietzsche-inspired philosophy titbits on Twitter between matches. In 2012, before comparing himself to George Orwell, he made headlines for refusing to withdraw his criticism of John Terry, the then England captain who appeared in court accused of racially abusing an opponent.
And, in fact, Barton's martyrdom almost did see him face charges, narrowly escaping prosecution for contempt of court.  He's since dedicated himself to the noblest of Twitter causes: winding up Piers Morgan.
These brief insights into the obfuscated world of professional football are becoming more and more frequent.  They're not always particularly coherent – Peter Odemwingie's criticisms of West Bromwich Albion's transfer policy were emotional but nonsensical – but they're usually entertaining.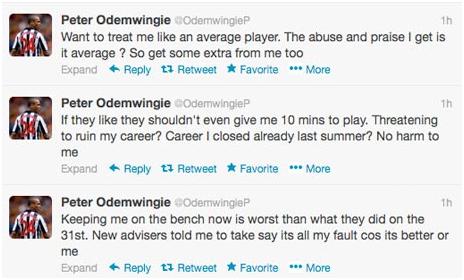 The ever-bemusing Mario Balotelli's twitter output is always worth watching, as he veers between the controversial, the offensive, the amusing, and sometimes the downright bizarre.


Twitter, then, is like male pattern baldness, or rain.  It's the great social leveller, the force that can't be controlled by even the most rich or powerful.  And with professional football so clouded by clubs' obsessive media management and lucrative corporate interests, we should be grateful for every glimpse into reality, every sliver of truth, that footballers on Twitter give us.