Less than a month from the beginning of the World Cup on June 12th in São Paulo, Brazil, it's been announced that certain technological innovations will be a part of the games. Indeed, ahead of the first match to kick-off between Brazil and Croatia, a young paraplegic person will, with the aid of a mind-controlled exo-skeleton, take a kick of the ball in the opening ceremony. Moreover, for the first time in the history of the World Cup, FIFA will allow the use of goal-line control technology, a system which includes 14 high speed cameras located at every corner of the football pitch, filming to accurately determine if a ball has crossed the goal line. If a player scores a legitimate goal, the referee will receive confirmation via their watch. This equipment will help them make the right decisions and avoid discussions or angry situations as has happened in previous World Cup tournaments.
Last but not least, the official ball has been once again designed by Adidas and named 'Brazuca'. The German supplier chose the 2014 World Cup to introduce its prototype 'Brazucam', featuring six HD cameras with an image stabiliser to give a unique view inside the game to improve fans' experience but also for team managers. Although this ball won't be used for official games in 2014, one can imagine an advanced version for future World Cups.
I wonder what other technologies we'll see in future tournaments? Perhaps players with cameras embedded in their sportswear. A report conducted by Futurizon for HTC also claims that by 2020, players will be equipped with accelerometers in their shoes that are able to precisely measure speed and performance, and the ball will feature impact sensors to measure trajectory. All this information will then be provided to referees, players and managers to be analysed in order to improve the game.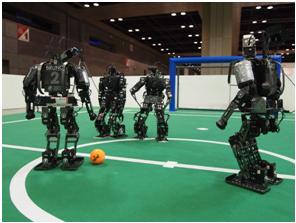 Since 2006, an international robotic tournament called 'Robocup' has been organised every year and aims to create a robotic football team able to beat a human world champion team by 2050.
With these innovations, we can wonder if human referees and players will even be on the football pitch in future. From my perspective, even if improvements in equipment can be argued to make the game better, there is something to be said for being careful that technologies don't have an adverse impact on competition and sporting spirit.