Earlier this month in Paris, at both Japan Expo and at Comic Con, Geekmemore, the French dating website, took centre stage when it set up a speed dating service for show attendees. Some 160 people per day participated, with men of all kinds – dragons, mutants, zombies or ninjas – sharing their passions with women (or should that be nymphets?) thrilled to find someone on the same page.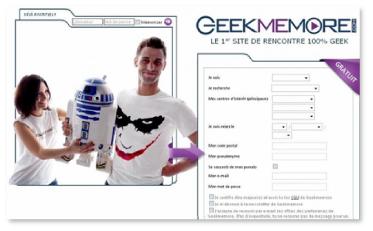 Geekmemore, which launched in 2012, already boasts more than 100,000 members and has generated three weddings. If you're looking for love and speak Klingon, know the Star Wars script by heart or are the king or queen of World of Warcraft, this website is definitely for you. Being passionate is an absolute must but remember, no brand will be mentioned! And aside from them helping you find true love, the site also lets members discuss all kinds of topics, such as video games, Fantasy, SyFy, Comics, Manga, role play and TV shows, while also accessing content.  
The success of sites like Geekmemore illustrates that being a geek today is most definitely something to be proud of, and – with a rise in social networking – it's never been easier to find like-minded people.  
So if Han Solo and Catwoman had a child, what do you think he'd look like?