There's been a lot happening over the past month since the last blog update.  First and foremost, the main news is that we've now reached our fundraising target of £2500.  We've had tremendous support and, once again, we'd both like to say a really big thank you to each and every person who has donated money to sponsor us.   It is your support of the NAS that makes this whole venture worthwhile.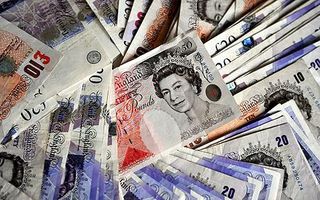 On the cycling front, our training has continued and it's been quite eventful. We've had a couple of accidents, though fortunately neither of us has been badly hurt.

  Plus a run in with a 'white van man' who tried to wipe us both out on a roundabout.
Lewis had the ultimate in low speed (actually, no speed) pile ups – he had to do an emergency stop when I pulled up suddenly in front of him and he couldn't get his feet out of the toe-clips in time.  He literally toppled over while stationary.  It was funny to watch him flailing about on the floor with his feet stuck in the bike's pedals.  I must admit it cheered me up no end.
Call it karma, but a few days later I fell off.  It was raining heavily, and as I was cornering my front wheel lost all grip as I rode over a large metal manhole cover.  I hit the ground pretty hard.  I think it cheered Lewis up to see me on flat on my back.  As I fell, Lewis almost ran me over but after his previous accident he'd perfected his emergency stop and feet out of toe-clips technique and he managed to avoid me.
The training has slowly been getting more strenuous, though in all honesty, we haven't been sticking rigorously to our planed training programme of a ride every other day.  Too many distractions – birthday celebrations, football matches on TV, and general excuses to go to the pub instead - have meant we've missed a few rides.   Having said that, we've still been doing plenty of riding and have ventured away from the Thames path a few times, including some longer trips like 35 miles from Greenwich to Maidstone and a killer 49 mile ride from Greenwich to Hawkhurst. 

The Hawkhurst ride, in particular, was pretty tough.  It wasn't just the distance, the furthest we've ridden so far, but also a lot of hills (including Wrotham Hill which is high), two punctures (first my rear tyre, then a bit later my front), heavy rain, wind and cold weather.  We'd invested in some waterproof socks to keep our feet from going numb in the wet.  Needless to say, they didn't work.
Still, it's all good training and we have to remember that for the trip to Paris we'll be riding 70 miles a day for three consecutive days.  Ouch.  Two months training to go and we're thinking that we need to stick more to the intended programme.