We've reached a milestone – our bikes have arrived.  We were like a couple excited kids when we picked them up from the bike shop and wobbled off down the road narrowly avoiding the passing traffic.
Strange as it may seem, when I agreed to do the London to Paris cycle ride it didn't occur to me that I'd need to buy a bike.  I didn't really think about it.  So, once we'd signed up, we spent a few weeks finding out about the different types of bikes and getting advice on what we needed to buy.  Just to complicate things, we wanted a bike that we could use for the charity ride (i.e. a road bike) but that we could also use for riding in the woods afterwards (i.e. a mountain bike).  As it turns out, there is no such thing.  What's good for the road is not good for the woods (and vice versa).    Even though we quickly worked out that a 'hybrid bike' is what we needed, we also discovered that most hybrids would make the Paris ride even more difficult than it already was. 

In the end we went for the Marin Belvedere, a hybrid which is closer to a road bike than many, with road-type gearing and narrow tyres.  The compromise is that it won't double up as mountain bike afterwards, but it should be OK for trails and the like.  I have to say, first impressions are very good – it certainly shifts a lot more quickly than my last bike.  (Yes, it really is close to 35 years since I've been on a bike).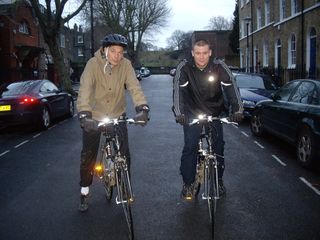 So it was with much enthusiasm that Lewis and me headed off on Saturday night for our first proper training ride.  Up until now we've been content with half hour sessions on the exercise bikes in the gym, so it was great to get out on the road.  We had no idea how far we were going to get, but after a couple of hours and 23 miles covered we were feeling pretty good about our prospects. 
Interestingly, it wasn't riding the bikes that we found most challenging, it was the hand-numbing cold and hard saddle. By Sunday morning it was a different story, and our legs were pretty achy, but that hasn't stopped us.  In our last ride we covered 30 miles, although we both found it tough going.
I'm sure all the suffering will be worthwhile come June when we raise much needed funds for the

NAS

.