We're getting quite into this cycling lark now and gradually getting fitter.  The bikes have been in for their first, free service and feel smoother now that the gears and brakes have settled down and been adjusted.  The bloke in the bike shop told us off for 'riding too roughly'.  Apparently, the wheels needed sorting out because they'd started to buckle where we've been riding too fast over rough ground.  It must be those cobbles.  I left the bike shop wishing it was as easy to get my rear end sorted.
Our (for 'our' read 'Lewis') puncture problems have continued – this time in the front wheel.  So it was two punctures in just four rides for Lewis (and none for me).  This is either down to bad luck on his part or, more likely, too many pies.  Still, on a positive note, we've had plenty of practice changing inner tubes and this will no doubt stand us in good stead if we get any problems en route to Paris.
In an attempt to put an end to the pie related punctures we've invested in some super strength tyres.  
Cycling is not a cheap hobby these days.  Hopefully the new tyres will be up to the job.  We've been out once since fitting them and so far so good.
The National Autistic Society is drumming up some publicity around the ride and asked us for a photo for use with the local press.  Yippee we thought.  Andrew, who got us into this in the first place, has decided the three of us are riding as the 'Three Musketeers' which obviously has a nice French connection and plenty of props potential.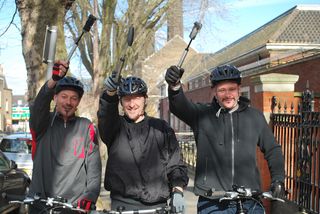 So, there we were on Saturday morning, complete with dodgy fake beards (well for two of us, one of us has a dodgy real beard), a NAS banner and bike pumps aloft for a photo shoot.  Lewis didn't look too happy.  I must admit there were some continuity problems on the shoot with his 'Musketeer' facial hair looking more 'Mexican bandit'.  To be frank I think this upset him – when I asked him about our next training ride he said he couldn't make it because he was going to his nan's.  And he didn't mean he was going to cycle there.