We've reached a couple of significant milestones.  By far the most important is that our fundraising total has risen to £2,000, meaning we've already achieved 80% of our final target.  A great start, particularly as we've been going for less than a month.   
Of course this is entirely down to the tremendous support we've received over the past few weeks, and we would like to say a big thank you to everyone who has donated money to the National Autistic Society as part of this fundraising effort.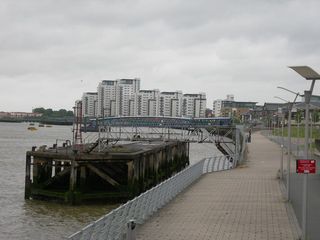 Training has been going well, with us making decent progress.  We've settled into a regular training programme, riding along the Thames Path from Greenwich towards Erith, covering between 20 and 30 miles at a time.  We've been going out riding every other evening and, with most of our riding being at night, visibility has been pretty poor in places.  Then again, the absence of traffic makes riding a lot more enjoyable.  We're looking forward to the lighter evenings and some drier weather so we can enjoy the rides even more.

This part of the Thames path is pretty industrial in places, with factories, gravel yards and building sites but there are also plenty of interesting landmarks such as the Thames barrier and Woolwich ferry.   The surface varies considerably from smooth tarmac to block paving and, unbelievably for a cycle path, cobbles.  Not great when the saddle is already taking its toll on your behind, believe me. In some places the path is unmade, just compressed mud, and that means big puddles (and cold, wet feet).
In spite of the hazards caused by poor lighting and unmade surfaces, by far the biggest hazard has been

dogs.  Not a large number of them, but on a couple of parts of the route, that we've come to know as 'Staf city', we've had a couple of narrow escapes.
The other significant milestone is that we've had our first puncture.  Or rather Lewis has had our first puncture. I thought the puncture protector we've put in our tyres would have prevented it (it worked perfectly when I used it in my motorbike tyres for years) but for whatever reason it didn't work.  Still, Lewis phoned home and Sarah and Georgia rescued him with the car.  This gave me the chance to race them the two miles back home – me on the bike, them in the car.  Of course, I won (otherwise I wouldn't have mentioned it).