Recently, as part of the Johnson King 2012 Gold Challenge, I took to the streets of London to visit two Olympic cycling venues.  Decked out in my Johnson King special 20th anniversary t-shirt, and new clipless pedals and shoes, it was a journey headed South and East.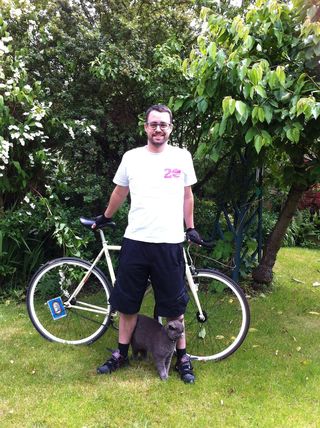 First up, was the 1948 Olympic velodrome, in Herne Hill, South East London.  The venue was, until very recently, gradually falling into disrepair.  However, thanks to recent investment, the old concrete track – which I remember whizzing around one summer in my early teens – has been scraped up and replaced with a nice slick new layer of tarmac.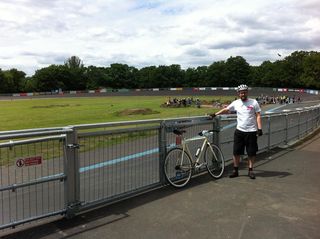 I wasn't there too long and couldn't take my bike onto the track itself as, even though it has a lot in common with track bikes, there are lots of rules about what's allowed on the track.  For example you mustn't have brakes on your bike and you must have the drop-type handle bars.
On then to East London and the 2012 Olympic velodrome.  Up through South East London, the City and Shoreditch towards Homerton and Hackney Wick.  The Olympic park itself is, of course, not yet opened, so the nearest I was able to get to the venue itself was from behind the barriers on the A12.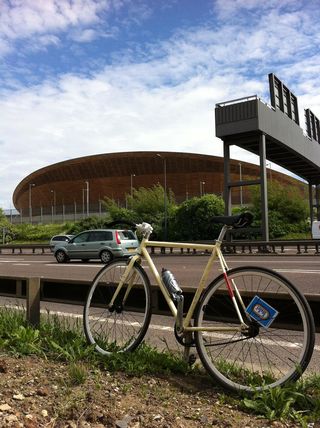 Although I – by some incredible stroke of luck given recent forecasts – managed to avoid any rain, it was very blustery, which can make for some hairy moments, especially with white van drivers waving out-of-sight traffic into your path!
Overall the distance covered on the day was 52.5km – nice practice ahead of the 250km cycle planned for next month, but more on that then…
Please visit and share our sponsorship page where we're working towards raising a total of £5000 for the NSPCC.