Ello is a new social network that has been making a lot of noise since its launch in September. However, with a number of already popular social media channels, including Facebook, Twitter, Instagram, Pinterest and Tumblr, Ello has a lot of competition.  Be that as it may, it also has very high ambitions and one clear goal in sight – to put Facebook in the shade.
Indeed, as soon as you land on the newcomer's homepage, it reads "Your social network is owned by advertisers".  Its founder, Paul Budnitz, wanted to put forward an ad-free network that doesn't sell user data to advertisers, or to any third party for that matter. Facebook is clearly the target here, as we all know it has been involved in a number of controversies over the years, for example when its conditions of use were modified in 2013 to sell names, pictures and content to advertisers.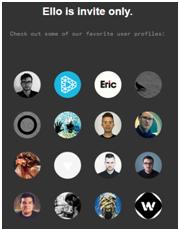 This is a strong message being put forward by Ello, as it seeks to differentiate itself from Facebook, which only continues to bombard us with targeted ads on our news feed.  Ello also promotes privacy by enabling people to connect without giving their name, just a nickname. This, again, goes against Facebook, which requires you to input your name and surname in order to register. Your date of birth, where you live, study, and work, as well as your mobile phone number, can also be added to your Ello page if you choose to.
One of Ello's main features is that you subscribe on invitation only, either by requesting an invite on the website or waiting for one from your friends. In the first week of its launch, subscription requests reached 40,000 per hour and there was a very long waiting list. For those who couldn't wait, invitations were on sale on eBay, from 5 to 150 dollars. Incredibly, this was before people even knew what it looked like or what the concept of it was.

As the best way to talk about something is through your own experience, I subscribed to Ello. I was presented with a black page, with a few words encouraging me to sign up, requested an invitation, and – after only a few minutes – I received a message thanking me for joining; the waiting list is clearly no more! To finalise the subscription, I entered my email address and username, and no additional personal data were requested.
The design is very simple – black and white, with no embellishment – and you can publish text, pictures, and connect to people. It has the same functionalities as every other existing social network, apart from the interface, which is less attractive from my point of view. At the moment, I don't really get the added value, but I'm not really aware of all the possibilities it has to offer because I only have one friend so far! In my opinion, we can't talk about innovation, given it's just another social network among others, with no special interest. Moreover, even if it does boast about protecting privacy, once you're on a social network – whatever it is – you have to be aware that your data will be at a risk.
The question is; will Ello's free subscription model with no ads really work? With no concrete way of earning money, it's entirely down to its growing community to keep it alive. A social network needs its members to survive, otherwise it's questionable whether it's really a 'social network' at all. Ello's founders have planned to develop a paying option, but will this work considering most social networks are free, and will this not contradict its original business model of being free to subscribe to?
Facebook may not be perfect, but the platform is not dead, particularly since 62 percent of French people have signed up for it, according to a recent survey. At this early stage, it's difficult to predict if Ello will be a real threat to Facebook, but one thing is for sure, it's certainly not a revolution in the world of social networks. However, let's give it a chance and see how it grows in the next few months!